Features
A sharp competitive edge is necessary to cut through today's competition, and Order Bound's cutting-edge features provide you with the necessary assistance to stay as sharp as possible. Each feature empowers your business by reducing overhead costs and increasing efficiency, thus freeing up both time and money – the two necessities of a successful business. How does our system do this? Simple: we give you the tools to build a future empire.
---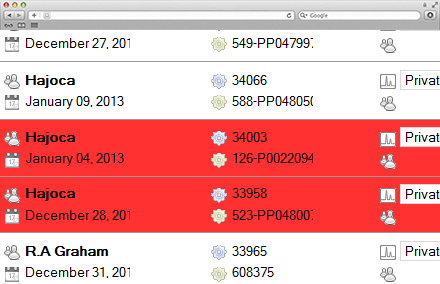 Multi-Level Users
Order Bound comes with the possibility of giving multiple users access to the system. In addition, each user can be given a certain amount of access to the system's features. For example, the lowest level user can only access the system's interface and add orders, but cannot modify any orders. The next level can add, modify, and manage orders. Having multi-level users helps to maintain control over the system's information.
---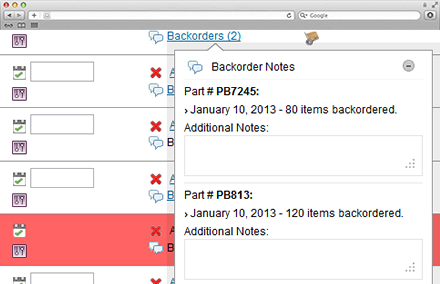 Back Order Tracking
In addition to the system's work order tracking information, Order Bound also tracks backorders. This part of the system allows users to make notes about which parts of an order have shipped, when they shipped, and when to expect the rest of the order. In addition, users can add notes to inform others about special circumstances surrounding the order. With Order Bound, you can easily track and manage any amount of backorders.
---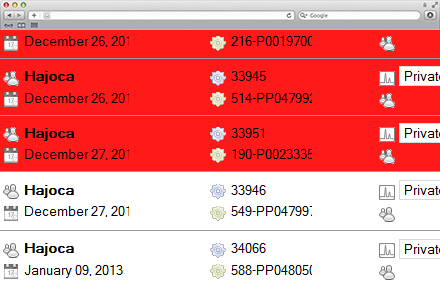 Work Order Management
Order Bound manages work orders through an easy-to-use interface that automatically tracks an order's progress through production. And even after an order is complete, Order Bound keeps the order's information in its production history, so you can refer back to it at a later date, if necessary. Plus, the mobile framework and responsive design of the interface makes it accessible from any computer or handheld device with Internet access. Quite simply, Order Bound is the ultimate work order management software.
---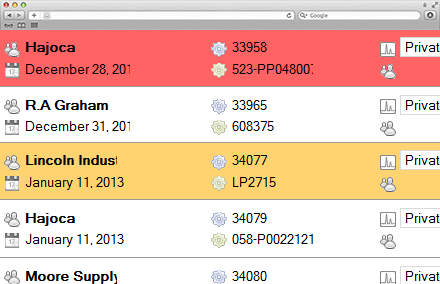 Prioritizing Production Times
The Order Bound organizational system is run by an automatic algorithm that examines each order for various criteria (e.g., when order was placed, shipping times, etc.) and then creates a list, prioritizing production times to simplify tracking your products. Although the algorithm is preprogrammed, we do offer some options for determining how to sort information within your work load list. In addition, if the supplied criteria do not meet your company's needs, we can create a custom module to enhance the Order Bound framework.
---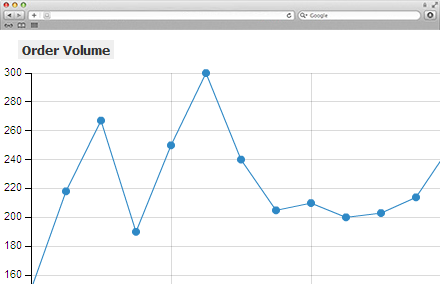 Detailed Reports
Order Bound automatically creates detailed backend reports using all of the data flowing through the system. In addition to showing the total number of recent work order volume, these reports can show the current number of orders in the system, categorizing these orders by their status. Also, the reports reveal how many users have access to the system, making it easy to visually remember how many people can look at your work order information.
---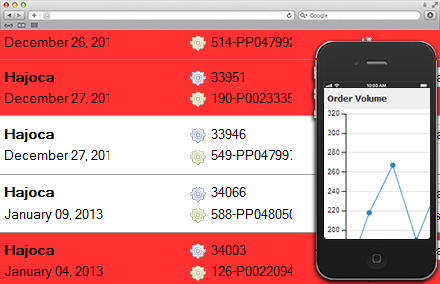 Responsive and Mobile
As a web-based online work order tracking software, Order Bound is accessible from any computer or handheld device with Internet access. Moreover, the responsive design of the interface makes it appropriate to view on any screen resolution. Whether you're walking around the office or out on the road, Order Bound is always at hand. Plus, you can access the site via cell phone, tablet, ereader, or computer.