Get Started with your Free Order Tracker Account
Responsive Design
Responsive design allows you to access Orderbound from any computer or handheld device with Internet access.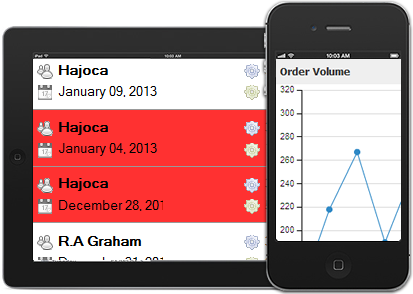 Key Features of the Orderbound Software
As a web-based work order tracking system, Order Bound is capable of being accessed from any computer with an Internet connection. Furthermore, the Order Bound interface adjusts according to the screen accessing it.
This means viewing Order Bound via a cell phone will display an appropriate layout interface catering to the cell phone's screen resolution. The same goes for computers, tablets, and ereaders. With the responsive design of Order Bound, your company's information is always close at hand.
---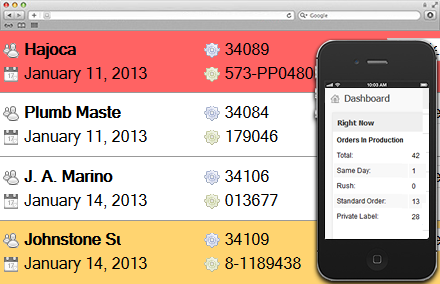 Mobile Access
Whether you use a tablet, ereader, or cell phone, Order Bound is always accessible. Plus, when we built the system, we created a minimalistic framework to keep the load times low and the information updating as fast as possible. Basically, if someone adds a new work order, you can immediately see it on any mobile device. All you need is an Internet connection and a mobile browser. Order Bound is the necessary tool that comes with you wherever you go.
Adjusts to Resolutions
Responsive design is an essential element that sets Order Bound apart from other work order interfaces. Basically, the interface's design resizes according to the screen resolution viewing the interface. For example, someone viewing the site with a widescreen resolution will see a different version than someone with a smaller screen resolution, but both are appropriate for the respective resolution viewing the interface. The same goes for individuals viewing it on mobile devices.
---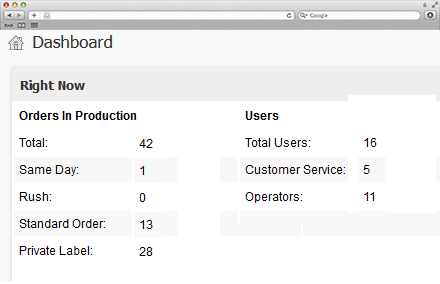 Cutting Edge Information
Order Bound was built on the idea that information is only useful when it is properly displayed. For this reason, the interface was designed to show useful information that is easy to read at a glance. Plus, the information requires no digging through numerous pages. You simply load the core page corresponding to your company and all of that information is right there. It's that easy.